Perseus-25VM
The device is developed for VIPs protection, convoys, police and fighting vehicles against threats of possible terroristic acts when remote controlled explosive devices can be used.
The device provides reliable blocking (jamming) radio controlled detonating fuses, when they can be actuated by coded radio signal transmitted in 20...2700 MHz and 5600...5900 MHz frequency range.
| | | |
| --- | --- | --- |
| Frequency range | | 20...2700, 5600...5900 MHz |
| Integral output power | | 201 W |
The device is fabricated in one case that can be placed inside the vehicle. The device is powered from vehicle onboard network 12V, 24V or 27V. It can be controlled by wire remote controller, PC notebook type or combat information and control system of the fighting vehicle. The set of antennas and unit ALG5790/1 providing jamming in 5600...5900 MHz range with special dismountable magnetic mounts are placed on the car roof.
Due to applied technology "OptiJam"®, the emitted signal of the device has high spectral density that allows to increase significantly the radius of blocking and at the same time to keep radio emission level nonhazardous for personnel.
The device has full digital control system that provides switching on/off of the whole devices and certain modules of subbands, forming of communication "windows". All switching motions are made by electronic keys (without electromechanical relays). The device operational conditions are displayed on PC monitor, combat information and control system or on remote controller.
The built-in automatic diagnostics system controls performability of all nodes and units. In case of emergency sound and visual alarm signal appears on the wire remote controller, PC or combat information and control system indicating faulty unit or node. Amplifier units will be switched off automatically for their safety in case of any damage happened to antennas or antenna cables.
Special features
vehicular wideband bomb jammer
application of "OptiJam" technology
power supply from standard vehicular onboard network
digital control
built-in digital diagnostics system with alarm about malfunction
constructional execution is in compliance with military standards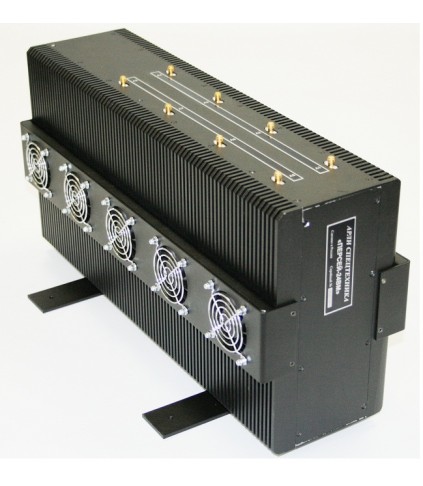 Technical specifications
| | |
| --- | --- |
| Frequency range | 20...2700, 5600...5900 MHz |
| Integral output power | 201 W |
| Continuous operation time from mains supply | unlimited |
| Forming of jamming signal | digital (PLL+FPGA) |
| Vehicle power supply | 12/24/27 V |
| Operational temperature range | −40…+60 °С |
| Dimensions | 480 × 260 × 175 mm |
| Mass | not more than 17,5 kg |
Integral output power is measured at impedance 50 ohm. The device has All Union State Standard (GOST P 12.2.006.0) and hygienic certificates. The device is manufactured in compliance with ISO 9001 standard, MIL STD 810F and IP 65.