Perseus-24M1
The device is developed for protection of VIPs, convoys and high-security objects against threats of possible terroristic acts when explosive devices with radio controlled fuses may be used for it.
The device also can be used for jamming cellular, trunked radio and other types of communication links at big squares, stadiums, transportation terminals, counter measures against UAVs and so on.
| | | |
| --- | --- | --- |
| Frequency range | | 20…2700; 3300...3700 (option) MHz |
| Integral output power | | 200 W |
Although the jammer operates in wide frequency range (20...2700 MHz and 3300...3700 MHz optional), only two wide band emitting antennas with omni-directional pattern are used in this jammer.
The device is fabricated in one case that should be placed inside vehicle. The device is powered from vehicle onboard network 12V or 24V. It is controlled by special wire remote control unit from passenger compartment.
Due to applied technology "OptiJam", the emitted signal of the device has high spectral density that allows to increase significantly the radius of jamming and at the same time to keep radio emission level nonhazardous for people in the vehicle.
The built-in automatic diagnostics system controls performability of all nodes and units. In case of emergency sound and visual alarm signal appears on the wire remote control unit indicating faulty unit or node. Amplifier units will be switched off automatically for their safety in case of any damage happened to antennas or antenna cables.
Specific features
vehicle-mounted wide-band bomb jammer
power supply from vehicular standard onboard network
application of "OptiJam" technology
built-in digital diagnostics system with alarm about malfunction
high integral output power (200 W)
future-proof due to operation in perspective 5G NR FR1 frequency band (option)
only two wide-band emitting antennas provide jamming in the full range of operating frequencies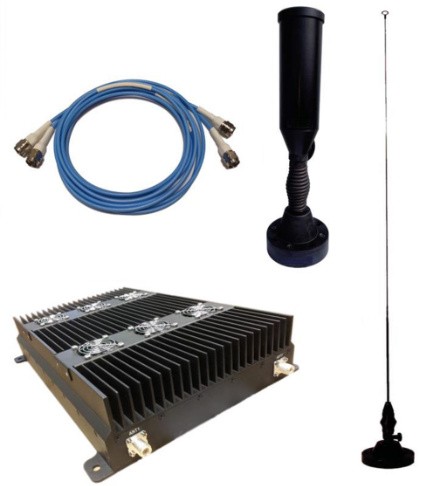 Technical specifications
| | |
| --- | --- |
| Frequency range | 20…2700; 3300...3700 (option) MHz |
| Integral output power | 200 W |
| Continuous operation time from mains supply | unlimited |
| Total consumption current of the device | not more than 55 A |
| Vehicle power supply | 12/24 V |
| Consumed power in jamming mode | 660 W |
| Operational temperature range | −40…+60 °С |
| Dimensions | 497 × 340 × 96 mm |
| Mass | 18 kg |
| Package | plywood box, 2 shipping positions, gross weight 40 kg |
Integral output power is measured at impedance 50 ohm. The device has All Union State Standard (GOST P 12.2.006.0) and hygienic certificates. The device is manufactured in compliance with ISO 9001, MIL STD 810F and IP 65 standards.