Perseus-105
The complex is developed for blocking unauthorized information transmission in cellular networks channels supporting standards: CDMA, GSM, UMTS (3G) and LTE (4G) (option) and for jamming radio controlled improvised explosive devices (RCIED) based upon cellular phones operating in these standards. The device automatically detects carrying frequencies and levels of signals of the channels of base stations operating in protected zone and forms jamming signal which inner structure is similar to structure of useful signal. This allows to jam efficiently any number of cellular phones operating in any modes of cellular network including frequency hopping mode.
| | | |
| --- | --- | --- |
| Frequency ranges | | CDMA450, 463...467,5 MHz EGSM, 925...935 MHz GSM900, 925...960 MHz GSM (DCS), 1800 (1805...1880 MHz) UMTS2100, 2 110...2 170 MHz LTE (optional), 791...862 MHz, 2 500...2 690 MHz |
The device can operate in two basic modes: autonomous without control PC and with control PC. The mode with control PC allows to widen functional capabilities of the device and to connect several devices in network that allows protection of facilities having complicated architectural structure. Since the jamming signal has spot character, the required power of jamming signal is small.
The "Perseus-105" is delivered in a standard attaché-case and has no external antennas and other decamouflaging signs. The device has built-in rechargeable batteries and built-in automatic charger, it is equipped with self-diagnostics system with sound and visual indication of charge level.
Special features
high-speed intellectual digital spot jammer for cellular networks
low necessary power of the signal
unlimited number of simultaneously transmitted jamming signals within cellular networks standards
absence of external antennas, no decamouflaging signs
universal application (autonomously and in network)
built-in digital diagnostics system with alarm about malfunction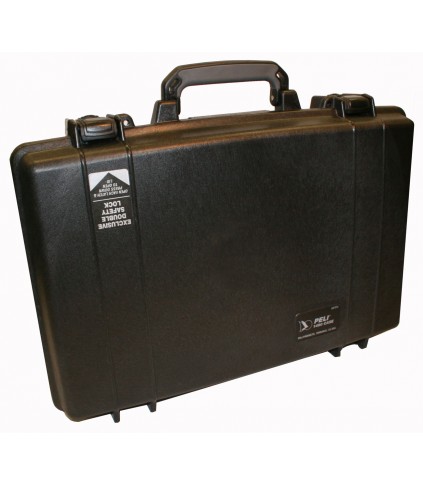 Technical specifications
| | |
| --- | --- |
| Frequency ranges | CDMA450, 463...467,5 MHz EGSM, 925...935 MHz GSM900, 925...960 MHz GSM (DCS), 1800 (1805...1880 MHz) UMTS2100, 2 110...2 170 MHz LTE (optional), 791...862 MHz, 2 500...2 690 MHz |
| Maximum spectral density of jamming signal | 0,1 W/kHz |
| Continuous operational time from built-in rechargeable battery | not less than 2 h |
| Continuous operation time from mains supply | unlimited |
| Forming of jamming signal | digital |
| Number of simultaneously transmitted jamming signals | unlimited |
| Dimensions | 480 × 357 × 125 mm |
| Mass | not more than 8,5 kg |